Where to go shopping in Prague?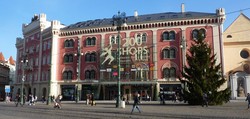 Palladium, Namesti Republiky 1, Prague 1 - PALLADIUM is a modern shopping center with the widest range of shops, restaurants and services in the middle of historic Prague. You will find there nearly 180 shops, 20 restaurants, cafes and bars on 5 floors and almost 900 underground parking spaces. Sensitive combination of historical elements with a modern architecture creates a unique atmosphere that makes shopping here a real experience. Opening hours: Shopping mall: Sun-Wed 9:00am-9:00pm, Thu-Sat 9:00am-10:00pm, Restaurant Mon-Sun 8:00am-11:00pm, Supermarket Mon-Sun 7:00am-10:00pm, Parking Mon-Sun nonstop.
---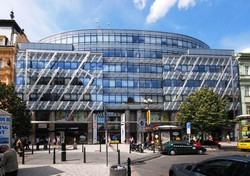 Shopping Gallery Myslbek, Na Prikope 19-21, Prague 1 - Myslbek Shopping Gallery is a passage between New and Old Town connecting the busy street Na Prikope with Ovocny Trh. The shopping gallery itself is conceived as a relaxing shopping space dominated by a circular central area with several restaurants and places to sit. In stores here you can buy various goods of high quality. The entrance to the shopping gallery Myslbek you can find on both sides - from street Na Prikope nr. 19-21, and also from street Ovocny Trh nr. 8. Opening hours:Shopping Gallery Mon-Sun 8:30am to 10:00 p.m., Shops Mon-Sat 9:00am to 8:00 p.m., Sun 10:00am to 7:00 p.m..
---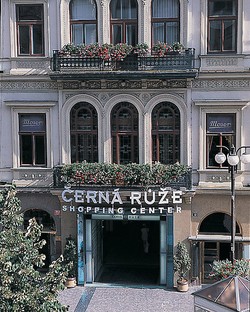 Passage Cerna Ruze, Na Prikope 12, Prague 1 - shopping mall in the city center, which was opened in 1998 after reconstruction of the building. In this shopping center you can find a variety of exlusive shops and services. Opening hours: Shopping mall Mon-Fri 10:00a.m. to 8:00 p.m., Sat 10:00a.m. to 7: 00p.m., Sun 11:00a.m. to 7:00 p.m..
---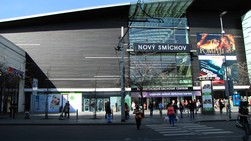 Shopping center Nový Smíchov, Plzenska 8, Prague 5 - The shopping center unique that complements the local street network. The scope of the project and its contents correspond to the suburban shopping centers with a hypermarket, shops, boutiques, cinemas, restaurants and fast food that the center is able to integrate into the urban fabric basically in the city center. The streets intention was to divide the building into different frontages and sizes in accordance with the scale and importance of the area. The center has three underground floors with parking for 2,500 cars and three floors with commercial galleries. The roof on the third floor is along its entire length glass and hidden beneath her 160 stores, hypermarket and a 12-screen cinema. Opening hours: shops and services Mon-Sun 9.00am to 21.00 pm,Tesco Mon-Sun 6.00am to 12.00 pm,restaurants and entertainment Mon-Sun 11.00am to 11.00pm ,multiplex Cinema City Novy Smíchov Mon-Fri from 11.30am to 1.00pm., Sat-Sun 09.30am - 1.00pm
---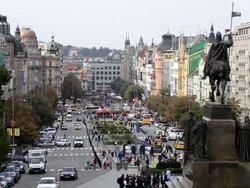 If you are not a lover of shopping centers and if you rather prefer small boutiques, then visit stores directly on Wenceslas Square (Metro station Museum - Transfer - line C / red line and A / green - or Mustek metro station - Transfer - Line A / B and green / yellow). On the path from Wenceslas Square to Old Town Square you will find one shop next to each other with various goods. And don´t miss to visit on this path famous Havelsky market where you can find fresh fruits and vegetables as well as traditional Czech souvenirs.
---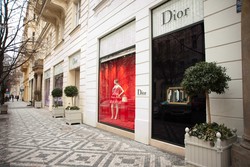 If you prefer luxury goods and exclusive worldwide brands, we recommend you Pariska Street where you can find top boutiques. You can easily entry to Pariska street directly from the Old Town Square.
---
Where to buy traditional and world famous Czech glass?
---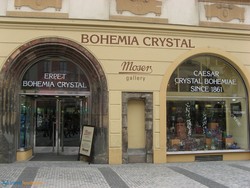 Erpet Bohemia Crystal, Old Town Square 27, Prague 1 - this shop you can find directly in the city center, opposite to the Astronomical Clock on the Old Town Square. The shop Erpet Bohemia Crystal sells high quality Czech crystal, pressed lead crystal, color layered cut crystal chandeliers, a world famous crystal from Moser, Goebel porcelain signs, Czech garnet jewelry, crystal figurines, fine jewelry, art glass, enameled glass and much more. The staff is multilingual (also they speak Japanese), friendly and ready to help you. Erpet Bohemia Crystal offers tax-free shopping, VIP service, free refreshments (coffee, tea and soft drinks), delivery of goods to hotels and the possibility of sending goods.
---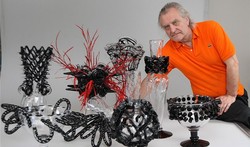 Collection Borek Sipek, Valentinska 11, Prague 1 - Borek Sipek collection consists of beautiful and unique collection of glass objects such as vases, lighting and chandeliers, tables, bowls, etc. Design glass from Borek Sipek is hight quality and certainly adds to the drama and color to any home. Borek Sipek, who is originally from Prague, is a respected architect and designer who is known around the world for its unusual new Baroque designs. If you are looking for an original piece of designer glass from Borek Sipek, visit the showroom by appointment Design Lounge Borek Sipek in Snemovni street or go to the store in Valentiska 11, where you will find most pieces from the new collection of Borek Sipek. After entering the showroom you will feel like you enter to a world of fantastic neo-Baroque design glass, and you will don´t know which piece you will choose first.
---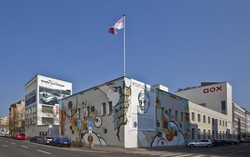 Dox Centre of Contemporary Art, Osadni 34, Prague 7-Holesovice - This remarkable new gallery in Prague district Holesovice is a much needed breath of fresh air. The gallery is a former factory. Sensitive reconstruction transformed it into a modern, minimalist exhibition hall with wonderful natural light and generous space for the presentation of art. On the upper floor is a large terrace and cafe perfect for relaxtion. You will find there also shop with a wide selection of books, exquisite and unique jewelery and stunning glass and ceramics. For information about ongoing exhibitions, visit the gallery website.
---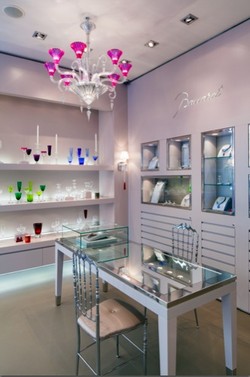 Prague Baccarat Boutique, located in Art Nouveau Municipal House, U Prasne brany 2, Prague 1 - Baccarat brand is an international luxury brand, founded in the mid-18th century by Baccarat in France, under which hides one of the best manufacturers in the world of crystal. The brand offers a wide range of crystal products, including customized design lighting for residential and public spaces such as museums and palaces, furniture, decorations, exclusive jewelry, table service and more. All products carrying the label Baccarat which represent a combination of timeless traditions and unique skills of most skilled glassmakers in France, and therefore symbolize the simple perfection, beauty and the French art.