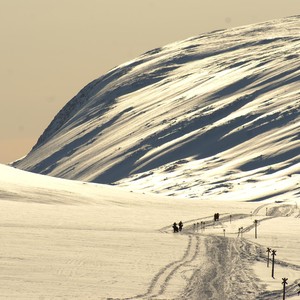 Lapland Snowbike Expedition with Jan Kopka
For bike and wild nature lovers is snow-safari expedition with our most successful extreme biker Jan Kopka a real adventure.You will travel the Lapland nature despite all its pitfalls on specially modified snow bikes.
You will experience:
14 days of adventure in the Nordic nature
14 days of incredible feelings
14 days full of adrenaline
14 days without civilization
14 days ...
Prove yourself!
---
Location: Lapland
Term: March, April
Duration: 14 day
Accommodation: in natural conditions
Difficulty: ˙˙˙˙˙˙ + high demands on physical fitness and mental resilience
Number of persons: 5-8
Transportation: bus, or by air
Ordering: 12 weeks before the event
Details: expedition includes bus transport of people and bags to Lapland and back which will took two days (air transport is not include in the price, but we are able to provide you with air ticket through cooperation with our partner agency and your equipment should go with bus), renting of snow bike, bag hanger and front, back and frame bags and double bags on handlebars, crankbrothers pedals, and polar guide Honza Kopka. It is 10 days on the way through Lapland nature on the snow bikes, cooking and sleeping in free accessible lodges. Price does not include possibility of pay lodges (sometimes possible in the villages, extra charge, prices from 100-200 Eur per group). 
Price: from CZK 24.000,- / person