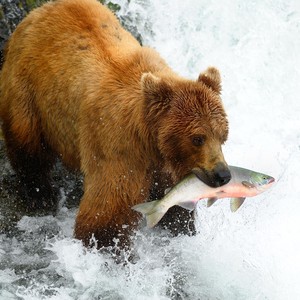 Alaska
Every little boy ever dreamed of visiting Alaska, the beautiful unspoilt countryside with flavor of wilderness. Do not believe the stories about the commerciality of Alaska and convince yourself that still exist places where cell phone does not work. We will accommodate you in the heart of the American part of Alaska, in Katmayi National Park, near the river where fisherman´s fly-fishing and bears behind them fish for salmon. You will visit the Valley of Thousand Smokes, where Novarupta volcano caused in 1912 the largest volcanic eruption. You will see whales and sky-blue glaciers majestically rising out of the sea. The trip is combined with visiting the city of Juno and Anchorage.
Location: Alaska
Deadline: July-August
Duration: 14 days
Accommodation: Juno, Anchorage - 4 * hotel, Katmayi park - Lodge 2 *
Difficulty: ˙˙˙
Number of persons: 4-8
Transportation: by air
Ordering: 8 weeks before the event
Details: accomodation in Brooks Lodge, max. capacity 4 people per one lodge, 3 nights, food 3x a day in the main lodge, tour Brooks Camp - watching bears, whole day trip by bus to Valley of Ten thousand smokes guide with ranger, kayaking and other optional activities (fishing) and trips which aren´t include in the price, but you can pay them directly on the place. Air transfer from Katmay national park to Anchorage and to Juno. In Juno: accomodation 3* hotel Westmark, 2 nights, price does not incluce food, visit of city. Air transfer to Gustavus to national park Glacier Bay, accomodation in 3* hotel Glacier Bay Lodge, 2 nights, price does not include food, whole day trip to glacier bay, trip on fishing boat to watching whales. Last day departure from  Anchorage to Prague.
Price: from CZK 120.000 ,- / person